W trosce o obronę prawa Polaków do pozostania w Wielkiej Brytanii zwracamy się do Was z apelem, abyście starali się wpłynąć na decyzję Posłów Izby Gmin. Prawo daje nam możliwość do spotykania się z posłami, którzy reprezentują nasz okręg wyborczy nawet, jeśli nie jest się obywatelem brytyjskim i nie ma się czynnego prawa wyborczego.
Idąc za radą organizacji "the 3 million", która walczy o prawa wszystkich obywateli UE, w tym prawa Polaków do pozostania w Wielkiej Brytanii, zachęcamy do organizowania takich spotkań z własnym posłem w najbliższy piątek, 10 marca lub na początku kolejnego tygodnia.
Walka o Wasze prawa już okazała się skuteczna, kiedy w zeszłym tygodniu doprowadziła do zmiany Ustawy o Brexicie przez Izbę Lordów. Kolejnym etapem jest dążenie do zaakceptowania tej zmiany przez Izbę Gmin w przyszłym tygodniu. Będą także inne walki o Wasze prawa w Izbie Gmin jak informuje "the 3 million" niżej.
Weźcie sprawy w swoje ręce i starajcie się wpłynąć na decyzję parlamentu spotykając się z waszymi posłami i przekonując ich do Waszych racji.


Wasza przyszłość zależy od Was! Nie zmarnujcie tej szansy!


Dalsze informacje od "trzech milionów":

From: Nicolas Hatton (the3million) [mailto:info=the3million.org.uk@mail233.atl121.mcsv.net] On Behalf Of Nicolas Hatton (the3million)
Subject: The latest news from the3million | The final push?



We now have consensus across parties so let's push for an emergency bill to guarantee the rights of all EU citizens in the UK
A good day to you following the welcome news of the publication of the report by the Committee for Exiting the European Union yesterday.

In January the3million, with Anne-Laure Donskoy and Nicolas Hatton, presented evidence to the cross-party Commons Committee on Exiting the EU, alongside representatives from British citizens living in Europe.
Our evidence, which originated from our Forum, ranged from the stress and anxiety experienced by EU citizens since the referendum to the unfairness of the current PR system implemented by a hostile Home Office. It also proposed practical solutions, such as suggestions towards simplifying the PR process or recognising that access to the NHS should count as Comprehensive Sickness Insurance (CSI).
The Brexit Committee of the House of Commons – unanimously, across political parties, from both sides of the referendum – has heard our evidence, from EU nationals in the UK and UK nationals in Europe, and supported our joint call for an immediate guarantee by the UK Government to secure our rights, and then to work with the EU governments to put a detailed plan in place to achieve that.
We ask the Government to uphold these recommendations and to implement them, including our key demands to streamline the PR process, including accepting the NHS as cover for CSI.
We now have a strong political momentum as the Committee has agreed with the Lords, with British people living in the EU, with EU citizens themselves and with MPs from all parties in making this plea.

Change of tactics
We call on all EU citizens living in the UK and their British spouses, family members, friends, colleagues and neighbours to contact their MP and book an appointment at their surgery this Friday or the following week.
They should tell their personal story and bring a copy of the Committee report to ask them to work with the Government to implement the recommendations in an emergency bill as soon as possible.
This is a change of tactics: because the Government will clearly do everything in its power to defeat any amendment to the Article 50 bill, let's use our energy positively instead of fighting a battle we will lose.
Instead of supporting a flawed amendment, we want MPs to pressure the Government to introduce emergency legislation as soon as Article 50 is triggered.
By doing so, we will gain the support of most Conservative MPs who support our rights but cannot vote against the Government by supporting an amendment to the bill (even if they agreed to it). It is key to our success as this is not about politics, it is about securing our rights!

How to lobby?
1. contact your MP
2. book a Friday surgery appointment
3. Bring the report
4. Ask for an emergency bill to implement its recommendations in full as soon as possible
5. Regarding amendment 9B, we hope the House of Commons may change its mind and support that amendment but we also understand some MPs don't think this issue fits into this Bill. we need legislation, not playing party politics.
We have a live social media campaign to engage the wider society on our plight. You can help by
1. adding the 'badge' your social media profile picture
https://twibbon.com/Support/i-am-not-a-bargaining-chip-2
2. Tweet a picture of yourself with an A4 sheet 'I am not a bargaining chip' with the hashtag #bargainingchip

3. Share our videos
We are not bargaining chips
James and Patrizia's story
Emmy Van Dourzen's story

We need your opinion
the3million co-chair and freelance researcher has teamed up with West of England University to research the perception by EU citizens of the application process for Permanent Residence.
The research is anonymous and takes between 10 and 20 minutes to complete. We would really appreciate if you could spare some time filling the questionnaire and give us feedback at research@the3million.org.uk
Standing up for EU citizens
A great read from Maike Bohn, a German national living in Bristol who volunteers for the3million as the head of media relations:
http://www.huffingtonpost.co.uk/maike-bohn/standing-up-for-eu-citize_b_15153116.html
if you agree with Maike, please like the article (small icon on the right of the title)
Your stories
Human stories have changed how British society and politicians are perceiving EU citizens and alongside the bargaining chip campaign, we will work with you to publish more human stories. if you are willing to take part, please email Kasia at stories@the3million.org.uk
A wonderful idea from the Royal College of Art
"We're looking for 28 people, one from each EU country, who are willing to join a 'bring your own dish' meal, and share their personal experiences of Brexit.
Artists give a different angle to with a creative flair that makes people think. It also unites people, unlike politics.
This is why the3million will be supporting Brexit Recipes at the Royal College of Art on 25 March.
28 people, one from each EU country, join a 'bring your own dish' meal, and share their personal experiences of Brexit.
Volunteers are needed (application deadline 15 March). Apply at brexit-recipes@network.rca.ac.uk
more information at http://brexit-recipes.com
European regards,
Nicolas
Nicolas Hatton
co-chair, the3million
Join the I am not a #bargainingchip campaign
Take an A4 sheet of paper and take a picture of yourself with the wording 'I am not a bargaining chip' and share it on social media using the above hashtag. Watch the video here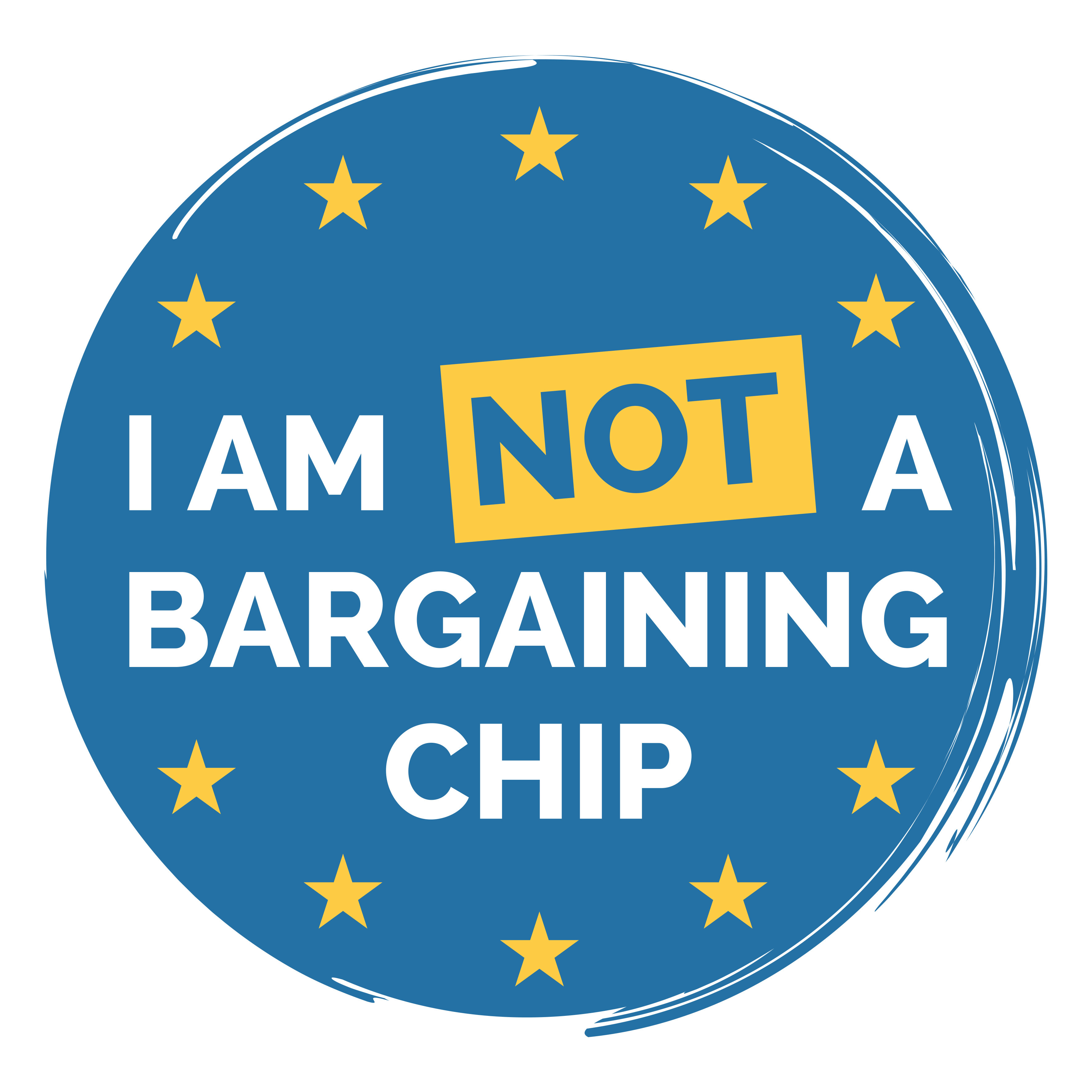 You can support us by: